North Vancouver, British Columbia
1190 Marine Drive
North Vancouver, BC V7P 1S8
Behind the Shell Station

(604) 988-2121
Open Today Until 6:00 pm
| | |
| --- | --- |
| Monday | 9:30 am - 6:00 pm |
| Tuesday | 9:30 am - 6:00 pm |
| Wednesday | 9:30 am - 6:00 pm |
| Thursday | 9:30 am - 6:00 pm |
| Friday | 9:30 am - 6:00 pm |
| Saturday | 9:30 am - 5:30 pm |
| Sunday | 11:00 am - 5:00 pm |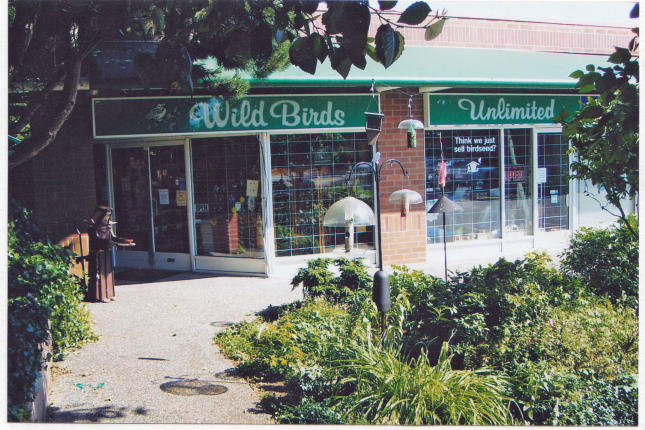 Mark and Laura Eburne Franchise Store Owners
View Our Store Site

Enjoy the Squirrels!
They may have a reputation for making bird feeding less enjoyable, but squirrels aren't going away any time soon. Perhaps by looking at them from a different perspective, you can begin to appreciate, if not enjoy, squirrels and their behaviors.
15% OFF In-shell Peanuts, Squirrel Food, and Squirrel Feeders*

*Valid only at the North Vancouver and Vancouver WBU locations. One discount per purchase. Offer not valid on previous purchases, gift cards, optics, DSC memberships or sale items. Offer valid in-store only 01/20/20 thru 02/02/20.
How to keep your hummingbird feeder from freezing
During cold winter days you and your hummingbirds may be disappointed to find the sugar water frozen and undrinkable! Sugar water in a 1:4 ratio of white sugar to water will start to freeze at -3°C. Don't worry because there are a number of solutions to keep your Anna's hummingbirds fed throughout the winter.

Hummer Hearth Hummingbird Feeder Heater
Hummer Hearths are now back IN STOCK!
The Hummer Hearth comes with a 7-watt candelabra C7 bulb and three hooks that attach to the feeder perch. This will keep the sugar water thawed to about -9°C (15-watt bulbs can be purchased to keep the sugar water thawed to about -15°C). The Hummer Hearth can adjust to fit many styles and sizes of feeders, but it works best with our 8, 12, or 16 ounce high-perch hummingbird feeders.
Other Tips
Place a heat lamp or work light near the feeder
Wrap your feeder in non-LED Christmas lights
Wrap your feeder in an insulating material, such as a sock, heat tape/plumbers tape, or pipe insulation
Attach a hand warmer to the feeder
Bring the feeder in at night and put it back out first thing in the morning (hummingbirds don't drink throughout the night, but are usually up at first light to get a boost of energy when they come out of their torpor)
Have a second feeder on hand and swap feeders when the one outside freezes
Place your feeder in a sheltered area
Use a dome to keep rain and snow off the feeder
Use a window feeder (single pane windows can transfer enough heat to prevent freezing)
Should I Increase the Nectar Concentration?
It may be tempting to increase the sugar water concentration to a 1:3 ratio to help prevent it from freezing. We recommend that you stick to a 1:4 ratio of white sugar to water all year round. This is the safest solution for your hummingbirds and most closely simulates the nectar that they get from flowers. Hummingbirds rely on their "nectar" as a source of water, so increasing the concentration can potentially cause dehydration and puts more strain on their organs to process it. A higher concentration mixture also makes it more difficult for the fluid to travel up the grooves of the hummingbirds' tongues.
---